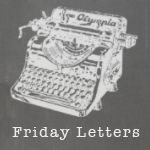 Dear Friday: You are always my favorite. Actually, Saturday and Sunday are my favorite, but we won't admit that today.
Dear E: I am so glad one of us is a morning person. I cannot imagine how Marley would feel if you were like me in the morning.
Dear Parents: I am jealous of y'all right now.
Dear Two Week Barbados Vacation: I can officially start counting down for you. I.cannot.wait.
Dear Longhorn football: We are coming to watch you tomorrow night. We might be buzzed, but that only makes it more fun. Please win.
Dear Tory Burch: You officially made my Friday with your 25% off coupon. I was able to purchase exactly what I wanted and save $125.00. Winning!
Dear Zumba: I know I look goofy as heck participating in class, but guess what? I don't care. You are amazing and shaking my bootay has never been so much fun.
Peace.